Econet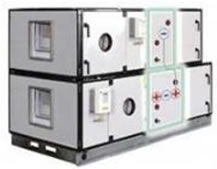 Building Service Engineers are seeing the increasing convergence of two building design issues of ever-increasing importance: indoor air quality and energy efficiency.
Whether the aim is to raise productivity in workplaces, to improve fresh air to maximize students focus in Universities - or to deliver optimum environmental conditions in hospitals, there has never been a greater focus on improving air quality in buildings. At the same time, the drive for energy efficiency is not merely a vital challenge for today, but for the foreseeable future.
On average, 68% of a buildings energy needs are spent on heating, cooling and ventilation. Future demand on Carbon reduction for the 2010 building regulations (25% reduction from the 2006 regulations) and taxation via the Carbon Reduction Commitment Scheme mean that in future utilizing low energy HVAC plant is not an option.
Key to the system is the ventilation plant, Fresh Air Loads are increasing and the proportion of energy being used for this function is growing as a result. It is therefore critical that the energy transfer and recovery systems work at optimum efficiency whilst linking into renewable energy sources for heating and cooling.
At each point of energy transfer, heating coil, cooling coil, recovery system there is inefficiency due to the co efficient of heat transfer, combined the wasted energy can be as high as 25%.
When using FlaktWoods Econet® concept, all energy functions, heat recovery, heating and cooling are integrated into one package. This means that the normal inefficiencies are dramatically reduced allowing far higher Chilled Water temperatures (12oC as opposed to the normal 6oC ) and lower Hot water temperatures (40°C as opposed to 80°C).
A typical Econet installation achieves a 50% reduction in Chiller Size, a 50% reduction in Boiler size ,a 70% reduction in Chiller run hours and an overall reduction in CO2 emissions of 45%.
Due to the operating temperatures there is the possibility of linking into Ground Source Heat Pumps, maximizing Condensing Boiler Efficiency, operating with Free Cooling Chillers, and a reduced Chiller size as a result of increased Chilled Water temperature.
Econet® is used in a wide range of buildings including Hospitals, Universities, Laboratories and Shopping Centres throughout the UK and Europe.
Installations
MSRU Laboratory: Dundee University – Ninewells Hospital
Centre for Virus Research : Laboratory – Glasgow University
Transitional Research Centre : Laboratory – Glasgow University
Rowett Institute of Nutrition and Health- University of Aberdeen
University of Stirling- Library
Oxford University: Laboratory – Oxford
Norgine:- Pharma Lab - South Wales
MSRU Lab: Dundee University - Ninewells
Imperial College: Laboratory - London
Norgine: Pharma Lab - Horsham
Bristol City Museum: Museum - Bristol
Great Ormond Street: Hospital - London
Royal Holloway: University Lab - London
University of Stirling Library
Barts Hospital: Hospital – London
Imperial College: Laboratory - London
BCUC: University - High Wycombe
Holbrook House: Office - London
Literature
View our other products