Integral DX Cooling Recovery Package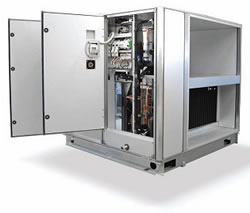 The ReCooler System offers integrated cooling within the Air Handling Unit whilst delivering the lowest power consumption available on the market.
It incorporates Plug & Play design technology – no on-site installation of Condensing Units, Pipework or Controls - simply provide power and start cooling.
Due to its unique Cooling Recovery system, ReCooler recovers cooling energy from the exhaust system resulting in less power being required to cool the supply air.
Industry Challenges going forward
The new Building Regulations introduced in 2010 require a 30% reduction in CO2 emissions from the previous standards. Legislation introducing the Carbon Reduction Commitment means compulsory Carbon Credit purchases for all large organisations in both the Public and Private sectors.
The requirement to reduce CO2 emissions will increase dramatically in the coming years and this - combined with the pressure to reduce running and capital costs –provides a compelling case for installing the ReCooler System.
With an average ESEER of 11 the ReCooler uses a third of the energy of a comparable Chilled Water System, installed cost is reduced by 60% with a reduction in installation time of at least six weeks.
Advantages
Integrated cooling recovery
Factory tested and Plug & Play
High COP and ESEER values
VAV-compatible
No condenser on the roof
Fast and low cost installation
High Reliability
Easily accessible for servicing
Smaller power connection
Low noise level
Literature
View our other products