Offices and Commercial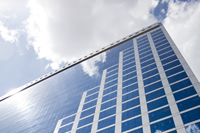 In recent years government initiatives such as New Building regulations, Carbon Reduction Commitment and BREEAM assessments have heightened the focus on developers to provide environmentally sound, sustainable solutions.
In addition, the recent economic slowdown has increased the pressure to choose the right energy option as the cost implications of making the wrong decision are potentially devastating.
EAC works in partnership with a number of commercial and leisure developers to help ensure their projects meet the environmental standards whilst working within budget restrictions. Projects vary and include offices, industrial, leisure and hotel developments.
Our design and development of total project solutions allows a global approach to reducing the overall energy consumption within the building. This ensures all parts of the system operate in tandem to deliver minimal energy consumption.
Our technology offering includes:
Case studies
View our other market segments