Home

>

Universities and Education
Universities and Education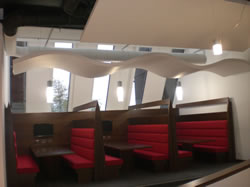 With increased pressure on funding, many educational institutions are suffering under the strain of huge energy bills in there large building Portfolios. The impact of this has seen energy efficiency come to the forefront as a key issue in the drive to reduce running costs.
EAC offer a variety of products and systems to help Universities , Colleges and Schools develop sustainable cost-saving energy schemes, as well as ensuring significant savings in carbon emissions.
Our range of packaged solutions can cater for any project from refurbishments right up to large university campuses, our experience covers a wide range of facilities including library areas, lecture theatres and laboratories.
EAC provide a bespoke solution to suit each educational facility's needs.
Our systems can typically save our customers in the region of 10-15% on their total energy usage, thus ensuring a short payback period and creating significant financial savings to the building running costs .
Air distribution is a critical part of the learning environment using our Activent Nozzle System, Displacement Terminals and Chilled Beam Solutions we provide the most comfortable and energy efficient buildings.
Our technology offering includes:
Case studies
View our other market segments